Tag: Led's
by Adam Evenden on Jun.12, 2014, under Projects, Unpatched Tuesdays
Recently one of our members decided that he would create a personal bartender in a form of a Droid bartender. This handy piece of equipment is functional and makes a great conversation piece. The bar bot is named Luma-Droid and mixes some mean drinks. Not all of these drink need to be alcohol, I am sure this Droid can can mix a mean punch as well. This handy Droid uses 4 different liquid sources to mix from 6 different drinks pre-determined  programmed and dispenses at a push of one of the illuminated buttons. This is actually the second version of this little Droid. The first version did not have the ultra sonic humidifier that creates a further finished and polished look. But not every improvement is merely aesthetic. Many times when creating a project that delves into areas that is a first for anyone,  creates problems and a list of things you would do differently if provided a chance. Well Eric had the chance and in the second version shown in the photos, the ultrasonic humidifier was added, as well as new pumps, reservoir for the humidifier, and for good measure a extra layer of sealing to ensure the water proofing.
Comments Off

on Mixology. A personal bartender.
:arduino, laser, Led's, shameless self-promition
more...
by Adam Evenden on Jul.09, 2012, under Announcements, Projects, Uncategorized
I care to introduce myself, my name is Adam Evenden. Over the last few weeks I have slowly been moving into my new role as the Photo Journalist in Residence, at the HackLab.
Tuesday have been a magical time at the HackLab for me over the last 2 years that I have spent visiting the Lab. Having met many interesting individuals, heard many great ideas, seen many grand projects, and have always been excited to come back. I foresee meeting many new members in the future who I have not had the previous pleasure of meeting, and the enjoyment I have experienced in the lab so far extending into my new role as the Photo Journalist in Residence.
Over the recent years the lab I have had the opportunity to witness many entertaining moments at the hack lab, as well as triumphant progress within projects. I would like to share within my first post some of the moments I have captured at the hack lab over the last few weeks as the Photo Journalist in Residence, as well as some moments that I have captured while visiting Iceland's hacker space Hakkavélin.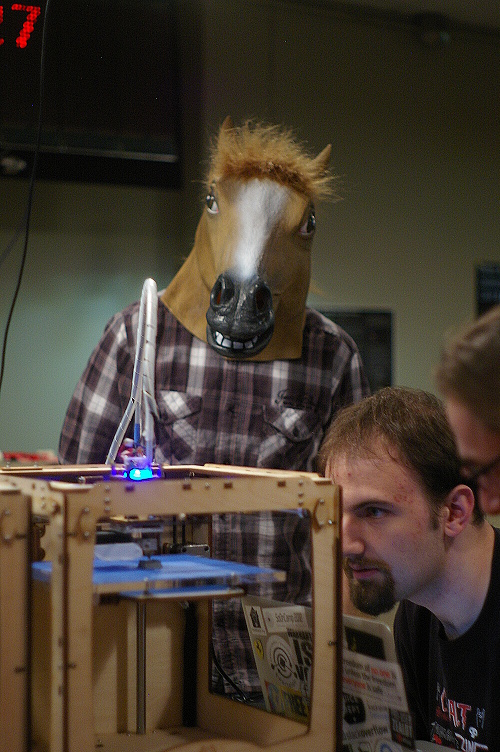 Several weeks ago, late Tuesday evening some initial horsing around went on.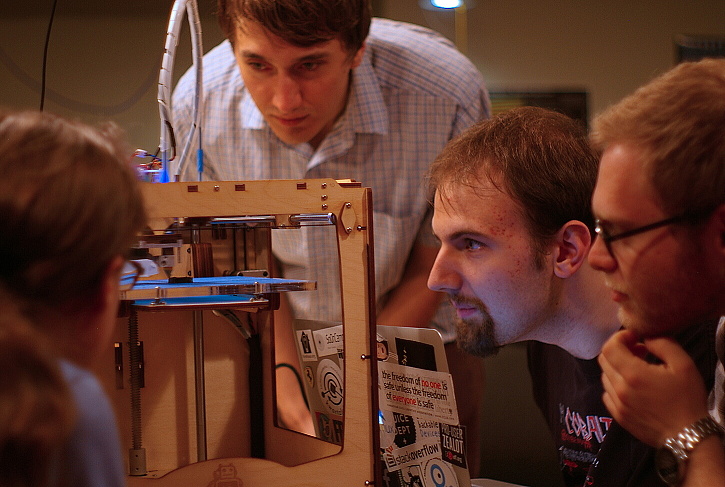 After all the spontaneity was done, Geordie, Atrain, Will, And Jed set to work on the Ultimaker. After much tweaking, fine tuning, and many hours spent working on the Ultimaker. We did not get out of the Lab till after 7am that  night, and the time was well spent.
Successful Test Objected printed
Comments Off

on Photo Journalist in Residence Introduction & Updates.
:Flip Dot Display, Introductions, Led's, Photos, shameless self-promition, Ultimaker
more...