Tag: artemisspacehipbridge
by Scott Sullivan on Feb.01, 2023, under Uncategorized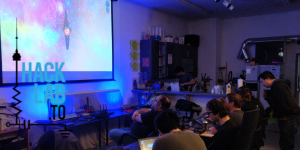 Hacklab.to presents Artemis Spaceship Bridge Simulator
Artemis is a local co-op multiplayer game where you crew bridge of a Starship. Work together to explore local space, upgrade your ship, and defend local space stations from attacking ships.
Equipment and Instruction on how to play will be provided.
Learn more about the game at artemisspaceshipbridge.com.
Comments Off

on Artemis Spaceship Bridge Simulator
:artemisspacehipbridge, fundraising
more...