Tag: HAM
by av on May.28, 2015, under Announcements
Hacklab member Daria demonstrates the radiating power of our 100W 80m-band transmissions on the Hacklab's new amateur radio antenna.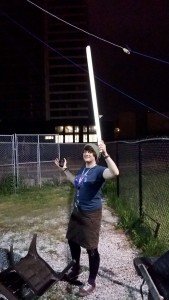 Comments Off

on HAM Radio – It's electrifying!
:Amateur, HAM
more...
by Adam Evenden on May.27, 2015, under Announcements
Hacklab has been slowly been building a HAM set-up for a while now.
It started as a discussion and when equipment started being installed it quickly built up to a full installation. Note if you are part of another hacker space or an individual in North America or in the GTA with their own HAM set-up, Tuesday night is our open house and it's likely the best time to reach us.
2 Comments
:
HAM
more...