by Alan Majer on Dec.13, 2011, under Events, Workshops
Ever wanted to copy a three dimensional shape? Molding and casting allows you to copy nearly anything – from hands and fingers to toys and sculptures. This beginners workshop (led by relative novices too), will provide you with hands-on exposure to simple molding and casting.
As this workshop, you will:
– be provided with materials for both molding and casting
– make a mold of your thumb or finger
– mix your casting material, and then use your mold to create a solid copy- take it home!
Here's some sample casts I took a few weeks ago with the materials that we'll be using: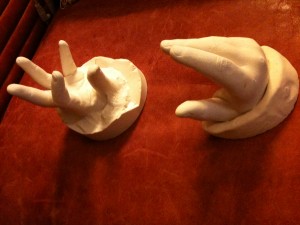 This workshop will be hosted by hacklab.to, at 170a Baldwin St., Toronto (which is upstairs, above Graffiti's Bar & Grill) on the evening of January 9th 7pm-8:15pm. Workshop participants will be charged $10 to cover the costs of materials.
Event registration is required. Tickets (12 only) are available at: