by mrericboyd on Aug.18, 2014, under Announcements, Running a Hacker Space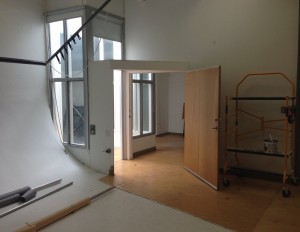 Some of you have already heard, word is getting around, hacklab has signed a lease on a new space!
We'll be moving to 1266 Queen Street West, units 6 & 12. It's at Dufferin Street, in Parkdale. The two units together have a HUGE amount of space, roughly equivalent to 5 existing hacklabs! Our lease starts Sept 1st, but we've got possession early to do some renovations. Many hacklab members are extremely excited about the potential of the new space!
Hacklab open house will continue to be at the current location (170A Baldwin Street in Kensington Market), likely till at least Mid-September. Every Tuesday evening 5:30pm-late as always. We will let you know when the location of the open house changes.
Thanks to everyone who supported our indiegogo and all of our activities throughout the last year – we wouldn't be in a financial position to do this without you! I'll be lasering up our thank you plaque soon!
If you'd like to contribute towards our moving expenses, we're always happy to take donations, please click the button at the bottom of this page or just come to our open house and put some money in our donation box. We're also looking for all kind of in-kind support (got some extra furniture?), please contact us.