by mrericboyd on Oct.04, 2014, under Announcements, Events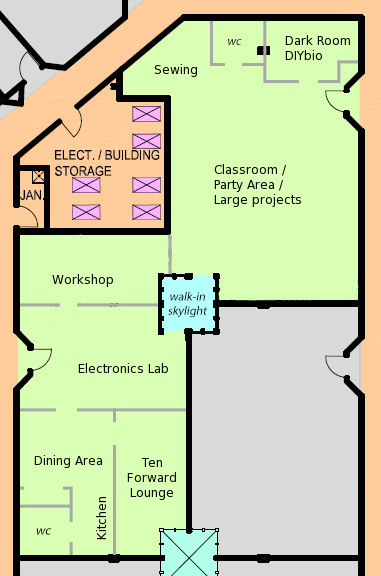 Come one come all, hacklab has moved and we're having a party to celebrate our grand re-opening! We're in a much larger space on Queen at Dufferin, where we're in the process of building out all kinds of awesome stuff, including a shop, a darkroom, a lab, a kitchen, and a classroom space! We'll have the classroom setup as a party space, with a DJ. Tours of the space will be given! Everyone is welcome, you do not have to be a member to attend. BYOB, and also bring friends!
What: Hacklab Grand Re-Opening Party
When: Friday October 24th, 8pm-late
Where: Hacklab 2.0, 1266 Queen Street West, Suite #6. Queen just west of Dufferin on the north side.
Why: Our new digs are awesome and you need to come see them!
We're also open every Tuesday evening 5:30pm-10pm for our open house, as usual.
You can RSVP on our eventbrite if you want (free admission).